Pathfinder


Armor Type
Light

Health
800 (

900

)

Energy
100 (

110

)
Primary
Light Spinfusor
Bolt Launcher
Dueling Spinfusor
Light Twinfusor
Blinksfusor
Secondary
Shotgun
Light Assault Rifle
Holdout Shotgun
Shocklance
Belt
Impact Nitron
Explosive Nitron
Compact Nitron
Pack
Energy Recharge
Thrust Pack
Gold cost

Free

EXP cost

Free
The Pathfinder is the free light starting class in the game Tribes: Ascend.
Description
[
]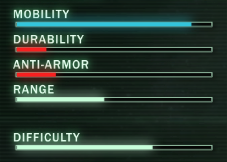 This class has amazing speed and mobility which makes them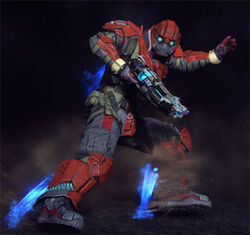 excellent flag Cappers/Chasers. The Pathfinder excels in hit-and-run tactics and is able to deal high damage at close range with the Shotgun. With the Impact Nitron that deals damage and knocks the flag away from the enemy, they are effective chasers, and also fill the role of Light Defense.
The Pathfinder's Energy Recharge Pack passively increases the energy regeneration rate. They are built for pure speed and can outrun any other class, but have somewhat poor one-on-one combat capabilities compared to more heavily armored opponents. The most effective tactic for Pathfinders is to knock targets back and deal great amounts of damage using splash feedback from their primary weapons. Pathfinders also have a large amount of jetpack charge and are able to stay airborne for a long time. Their Energy Recharge Pack also helps greatly using the jetpack, and with practice the Thrust Pack can be used to quickly gain speed or change directions mid-flight.
Skins
[
]
The Pathfinder currently has the following skin(s):
Loadout
[
]
Armor Upgrades

[

]
(15000 XP Mastery)
-25% Regeneration Delay
+10 Energy
+25% Health Regen Rate
+100 Health
-10% Mass
| Weapon/Item | (Projectile) Type | Damage (Range - Dmg) | Cost | Effect |
| --- | --- | --- | --- | --- |
| Light Spinfusor(P) | Projectile | Direct/Splash - 770/550-275 | Free | Spinfusor Type |
| | Projectile | Direct/Splash - 877/650-325 | 240GP / 21000XP | Large Knockback |
| Dueling Spinfusor(P) | Projectile | Direct/Splash - 880/550-275 | 40GP / 2400XP | Spinfusor Type |
| Light Twinfusor(P) | Projectile | Direct/Splash - 533/380-190(?) | 500GP / 44000XP | Spinfusor Type |
| Blinksfusor(P) | Projectile | Direct/Splash - 770/550-275 | 240GP / 21000XP | 100% Inheritance |
| Shotgun(S) | Hitscan | Medium- 8*80-8*30 | Free | Fires 8 Fletchets |
| Light Assault Rifle(S) | Projectile | Medium - 80-60 | 500GP / 44000XP | 3-round burst |
| Holdout Shotgun(S) | Hitscan | Medium- 8*90 | 120GP / 7000XP | Fires 8 Fletchets |
| Shocklance | Hit Scan | Energy - 700 | 420GP / 37500 XP | Short-Range, 1400 damage back shot |
| Impact Nitron | Thrown | Direct/Splash - 300/100 | Free | Flag Drop when hit, Large Knockback |
| Explosive Nitron | Thrown | Direct/Splash - 650/650-190 | 40GP / 2400XP | Large Knockback |
| Compact Nitron | Thrown | Direct/Splash - 300/90 | 160GP / 9000XP | Flag Drop when hit, Knockback |
| Energy Recharge Pack | Self Buff | None | Free | Increases energy recharge rate |
| Thrust Pack | Self Buff | Expends own energy | 240GP / 21000XP | Propels player forward |
| Armor | Light | 800 Health | Free | Low mass |
(P) - Primary Slot (S) - Secondary Slot
Tactics
[
]
Recommended Perks

[

]
Perk Slot 1
Perk Slot 2
Video Guides
[
]
Beginners Guide To Tribes:Ascend The Pathfinder by ShiftyTribes
Beginner Pathfinder Guide by ZeroMethanol (DoubleCrossGaming)
Basic Capper's Guide by TheSmallKiwiBird
Basic Capper's Guide - Addendum by TheSmallKiwiBird
Adv. Capping Guide by TheSmallKiwiBird
---